Name: Joost van den Oever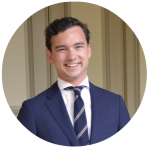 Company: Waldorf Astoria Amsterdam
Function: National Sales Manager
Motto: Whatever you choose to do, do it with passion and commitment. To be the number one you must take every opportunity to exceed expectations.
Can you tell us something about the history of the hotel and how this is carried out by the staff?
Waldorf Astoria Amsterdam is a hotel steeped in history – in fact, each of the six canal palaces has its own unique story, many dating back to the splendor of the Dutch Golden Age. We pride ourselves on being the only luxury hotel located on the UNESCO world heritage protected banks of the city's first and grandest canal, the Herengracht or 'Gentlemen's Canal'. This is reflected in the beautiful Jan Taminiau dresses that the ladies in our Front of House wear, displaying an original city map of Amsterdam.
What are the possibilities to organise a meeting or event at the hotel? Are there any specialties?
We have 7 function rooms which are conveniently located on the lobby level overlooking the canal or garden. Each room's distinctive décor is a reflection of the rich heritage of the six canal houses. All our menus are tailor made and created by our Executive Chef, Sidney Schutte of our two Michelin star restaurant Librije's Zusje.
Please share something about the Waldorf Astoria only a few people know about..
The founding father of the first multinational in the world, the United East India Company, lived in one of the houses of the Waldorf Astoria Amsterdam, his name was Mr van Loon and we named one of our four Signature Suites after him.
Finish this sentence: In 2020, the Waldorf Astoria Amsterdam…
…will continue to be the number 1 luxury hotel in Amsterdam.
What is your favorite spot in the hotel and why? What makes this place special to you?
My favorite spot in the hotel is the kitchen – a place full of creativity where culinary masterpieces are created by a talented and passionate team of chefs (and above all; tasted!). I like to come here as you can truly feel that every dish is perfectly matched together to create unforgettable experiences.